CaSSOA Community Watch
CaSSOA Community Watch is our new initiative for CaSSOA members to help prevent crime  and share information in your local area.
We want to help you to feel connected and safe, and by signing up to the group nearest to you, you can receive and share security alerts, communicate directly with other CaSSOA members and ask for advice.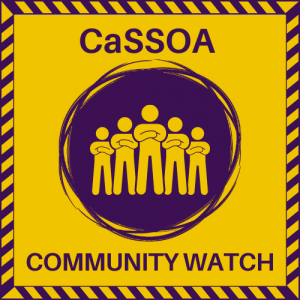 Click below to sign up to the mailing list for your nearest group.
After you've signed up, your regional contact will contact you from time to time with relevant information and alerts.
If you've got anything you'd like to share with your local group, you can simply contact your chosen representative.
By subscribing to CaSSOA Community Watch emails you are giving consent for CaSSOA area representatives to contact you. You may unsubscribe at any time