As the touring season draws to a close, you may want to start thinking about storing your caravan for the winter.
Is a caravan cover necessary?

Do the pros outweigh the cons?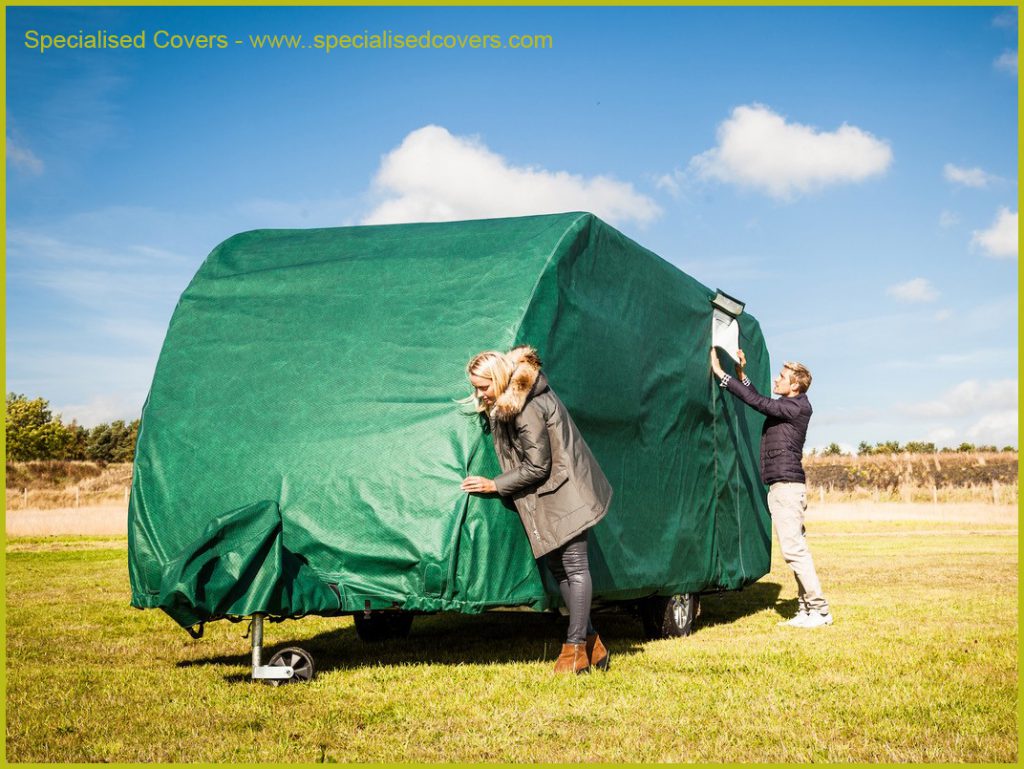 A caravan cover will protect your tourer from rain, dirt, tree sap and UV fading, and even scrapes to the bodywork. However, some would say that they also cause damp and are a hassle to fit.
A caravan cover will need to be breathable in order to allow moisture and condensation to escape from the inside, and water-proof to protect your caravan from the elements. Covers which are only water resistant may let water through in heavy rain.
How to Choose the Correct Cover
If you do decide to get a caravan cover, size is everything. Measure the length of your caravan body (parallel to the ground) from front to back, including the gas locker but not the A-frame.
Ready-made covers, or universal covers, as they are sometimes called, come in a range of sizes, and will secured by way of a strap underneath and an elasticated skirt. If your caravan is between sizes, go for the smaller option, as the excess material in the larger size will prove difficult to secure and may tear in windy weather.
Semi-tailored covers are designed for specific makes of caravan so should take into account variations in profile design. However, they're unlikely to align perfectly with doorways allow for roof lights.
An alternative option is to go for a made-to-measure cover. A tailor made caravan cover will fit your caravan exactly and allow for aerials, doorways and flues. Companies such as Pro-tec Covers and Specialised Covers offer this service.
How much do caravan covers cost?
Ready-made covers range from as little as £70 to around £100, whilst bespoke caravan covers start at around £300. Whilst they are considerably more expensive, tailor made covers are generally easier to fit, can be customised, and will be made from higher quality material allowing a greater degree of breathability, water resistance and durability.
Caravan Cover Care
Always clean your caravan before fitting a cover, as this may cause scratching.
Caravan covers can be washed using warm water and soft sponges. Detergents could impair the breathability of the fabric.
If your caravan is going to be in storage for a long period of time (over the winter) remember to check both your caravan and your cover regularly.
The Bottom Line
We think caravan covers are well worth considering, and you should spend as much as you can afford. If you've bought a brand new caravan, it makes sense to pay a reasonable amount on a cover to make sure your tourer stays in pristine condition.