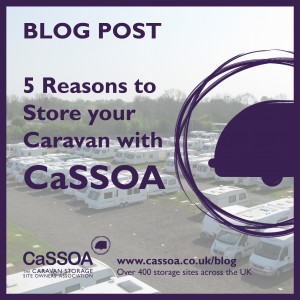 CaSSOA storage sites provide secure and accredited storage for your caravan or motorhome. Here are 5 reasons they should be your first choice:
1) Reduced Risk of Theft
It's been statistically proven that a caravan stored at a CaSSOA approved site is less likely to be stolen or suffer damage by vandals. Insurance claim data shows that caravans and motorhomes are far more vulnerable to theft then they're kept at home, so it makes sense to store your vehicle at a dedicated storage site.
2) All sites have been surveyed
All CaSSOA sites are required to undergo a comprehensive site survey on a regular basis. That way, we can be sure that the security and site facilities meet our required standards for Bronze, Silver or Gold accreditation.
3) Reduced insurance premium
Because of our commitment to reducing caravan theft, many insurance companies will offer a discount on your caravan insurance premium if you store at a CaSSOA approved storage site. You could save up to 25%.
4) Over 400 locations across the country
There are over 400 CaSSOA accredited caravan storage sites across the country so there's sure to be one near to you. You can search for a CaSSOA site using our site finder. Search by postcode, or by town or county.
5) On-Site Facilities
Not only can you get peace of mind that your caravan is being kept safe and secure, but if you store on a CaSSOA caravan storage site, you're likely to be able to access additional facilities like caravan servicing, valeting and tyre pressure checking.
With approved storage sites nationwide, we have a wide range of accredited caravan storage sites to choose from, so you won't have to travel far to find your nearest site. Click here to find your nearest CaSSOA approved leisure vehicle storage site.