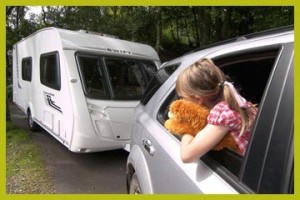 Whilst MOT style testing for caravans and is not mandatory, it's always worthwhile taking a few minutes to carry out some simple checks on your caravan to make sure it's safe and road worthy, and ready for your next trip away.
Taking good care of your caravan throughout the year will help to reduce the likelihood of potential problems – have a look at our blog post about preparing your caravan for winter. Regular maintenance of electrics, water systems, body work and the interior can ensure that your caravan stays in the best possible condition for as long as possible.
Some quick checks that you can perform yourself include:
Tyre pressure & condition
Wheel rims & wheel nut tightness
Breakaway cable & clip condition
Coupling head greasing or if stabiliser hitch head is fitted, check the friction pad wear.
Condition of gas hoses and connections
Ventilation & gas vents

Battery
Road lights & connections
12N, 12S (7-pin) or 13-pin connection cables, plugs & sockets
RCD cut-out test switch
Water hoses and connections
Prior to any maintenance work remember to check your caravan handbook for any specific advice, and it may also be worth checking manufacturer advice for any additional equipment you may have had fitted.
It is highly recommended that a comprehensive caravan service is carried out on a yearly basis. This will not only ensure your safety, but could potentially expose problems which if left, could be dangerous and could result in costly repairs in the long run.
A service, which should be carried out by a qualified engineer, should cover the following:
Hitch head coupling
Chassis
Bodywork
Damp test
Tyres
Brakes

Suspension
Handbrake
Road electrics & Appliance electrics
Gas system & appliances
Water system & Toilet
If you store your caravan at an accredited storage site, there may be a regular service engineer who visits. Alternatively, visit www.approvedworkshops.co.uk to find an Approved Workshop in your area.